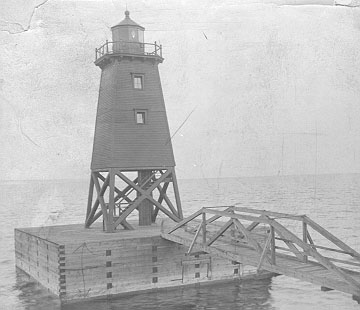 The Old Alpena Lighthouse before it was redesigned.
ALPENA BREAKWALL LIGHT
State: MICHIGAN
Location: ON BREAKWALL/ENTRANCE TO THUNDER BAY RIVER
Nearest City: ALPENA
County:
U.S.C.G. District: 9
Year Station Established: 1877
Existing Historic Tower: Yes
Year Light First Lit:

1914

Is the Light Operational? Yes
Date Deactivated: n/a
Automated:

Yes

Foundation Materials: Breakwater
Construction Materials: Cast iron
Markings/Patterns: Red skeletal tower, upper part enclosed
Shape: Skeletal
Relationship to Other Structures:
Tower Height:
Original Optic: 4th Order Fresnel
Year Original Lens Installed: 1914
Present Optic: 250mm Plastic Lens
Year Present Lens Installed: N/A
Height of Focal Plane: 44 Feet
Fresnel Lens Disposition: At Grand Traverse Lighthouse
Has tower been moved? No
Previous Tower(s): N/A, Destroyed
Modern Tower? NO
Existing Sound Signal Building? No
Existing Keepers Quarters? None, Destroyed
Year Constructed:
Number of Stories:
Architectural Style:
Construction Materials:
Other Structures: None
Current Use: Active aid to navigation.
Owner/Manager: US Coast Guard
Open to the Public? No
Non-NPS Web Site:None
National Register Status: NONE Reference # 0
Name of Listing: On State List/Inventory? NO; Year Listed:
Miscellaneous: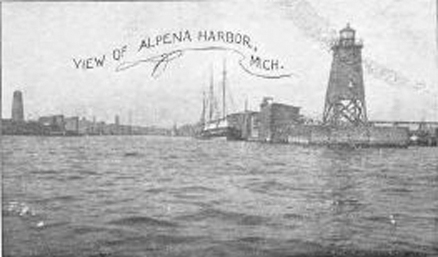 An old postcard view from the water of the old lighthouse.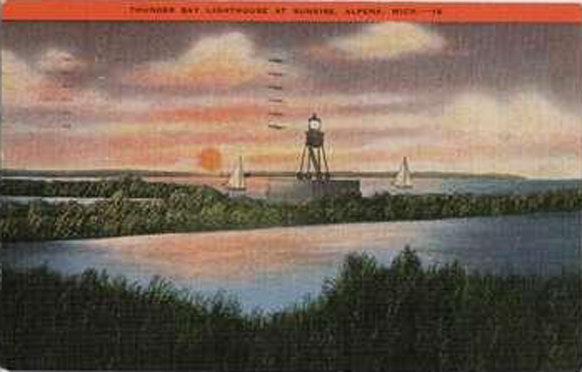 A colored postcard showing the new Sputnik style design.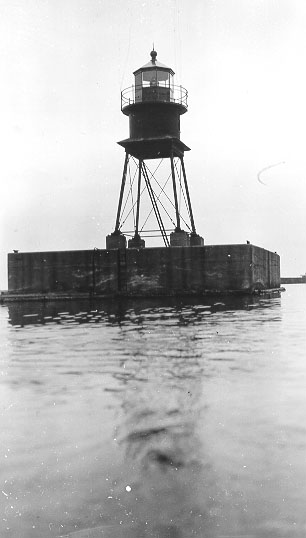 A photograph of the light on the concrete crib.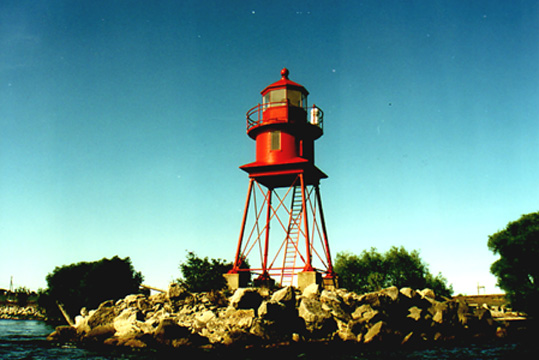 The light as it stands today.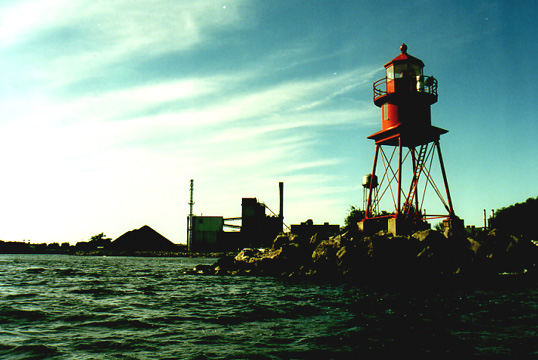 This bright red, steel frame structure has been nicknamed "Sputnik" by the people of this northern Michigan City. Resembling the Russian space satellite, it is believed to be the only lighthouse of this type in the United States. The current structure is believed to be the 3rd lighthouse in the area, following two others built during the 1800ís. Two styles are pictured here and the original one may have been only a post lantern type of warning light.