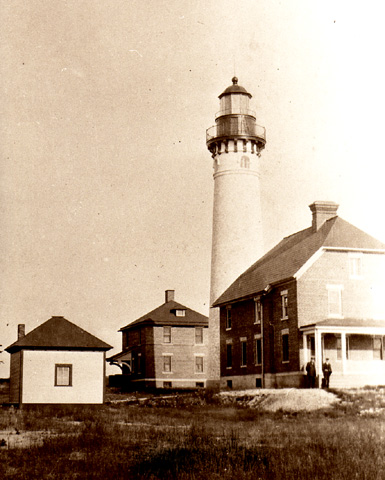 1920's view of the station.
AU SABLE POINT LIGHTHOUSE
State: MICHIGAN
31 MILES EAST OF MUNISING; 13 MILES WEST OF GRAND MARAIS, MICHIGAN
State: MICHIGAN
Location: LAKE SUPERIOR
Nearest City: GRAND MARAIS; County: ALGER U.S.C.G. District: 9
Year Station Established: 1874; Year Automated: 1958
Year Existing Historic Tower Constructed: 1874
Is the Light Operational? YES; Date Deactivated: N/A
Foundation Materials: WOOD PILINGS
Construction Materials: BRICK
Markings/Patterns: WHITE WITH BLACK LANTERN
Shape: CONICAL
Relationship to Other Structures: ATTACHED
Tower Height: 87/Height of Focal Plane: 107
Original Optic: THIRD ORDER, FRESNEL (1874)
Present Optic: 300 MM, SOLAR POWERED (1958)
Lens Dispostion: THIRD ORDER LENS ON DISPLAY IN LANTERN SINCE 1996
Is there a Newer Tower? NO
Is there an Existing Fog Signal Building? YES
Year Constructed: 1897; Construction Materials: BRICK
Fog Signal Type: REMOVED/ORIGINAL: STEAM WHISTLE & AIR HORN
Is there an Existing Keepers Quarters? YES (CONVERTED TO DUPLEX IN1909)
Year Constructed: 1874; Number of Stories: 2; Architectural Style: DUPLEX
Construction Materials: BRICK
Other Structures: STEEL OIL HOUSE (1915), 2ND BRICK KEEPERS (1909), KEROSENE STORAGE SHED (1895), 2 BRICK PRIVIES (1874/1909), WOODEN BOATHOUSE AND WOODSHED (1875), BRICK CISTERN, 2 VEHICLE WOOD FRAME GARAGE (1954)
Owner/Manager: U.S. COAST GUARD/NATIONAL PARK SERVICE
Current Use: ACTIVE AID TO NAVIGATION IN NATIONAL PARK
Open to the Public? YES; GROUNDS OPEN DAILY/GUIDED TOURS DURING SUMMER
Access: PICTURED ROCKS NATIONAL LAKESHORE/OFF COUNTY ROAD H58 (1.5 MILES EAST OF HURRICANE RIVER CAMPGROUND)
Public Phone: 906-387-3700
National Register Status: LISTED: AU SABLE LIGHT STATION
Documented by HABS/HAER? YES MI-317
CALLED BIG SABLE LIGHT UNTIL 1910; STATION IS BEING RESTORED TO ITS 1909-1910 APPEARANCE
GENERAL INFORMATION:
This light was called Big Sable Light until 1910.
The National Park Service is in the process of restoring the lighthouse. The tower and red brick building keepers dwelling and matching red brick fog signal building are still standing. The boarded lantern area is an impressive sight.
The third order fresnel lens is on display at the National Lakeshore's Nautical and Maritime Museum in Grand Marias.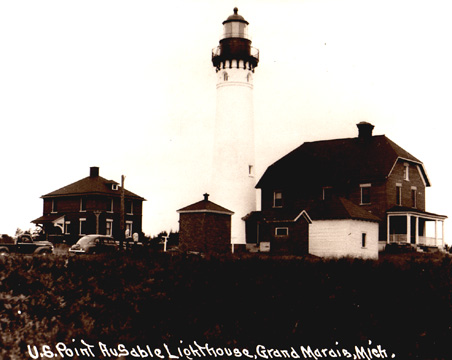 A 1940's view of the station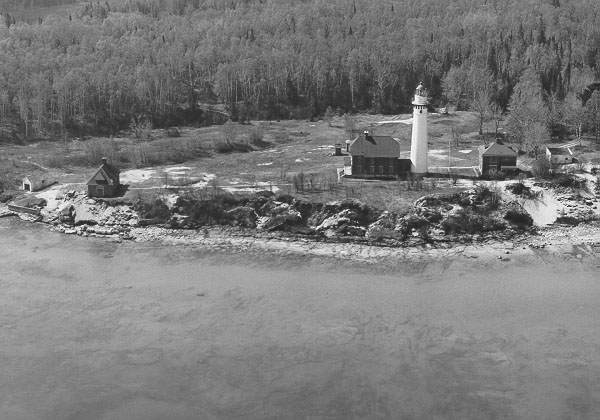 An undated US Coast Guard photo from the air.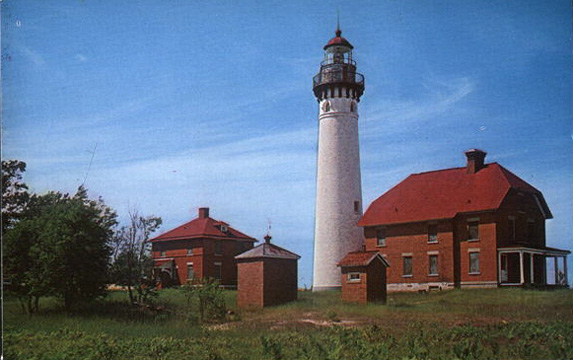 A view from an old postcard with all the windows boarded up.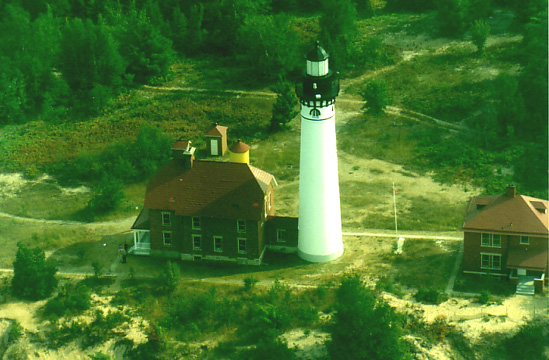 A current view of the station from the air in 2001.
Another view from the air in 2001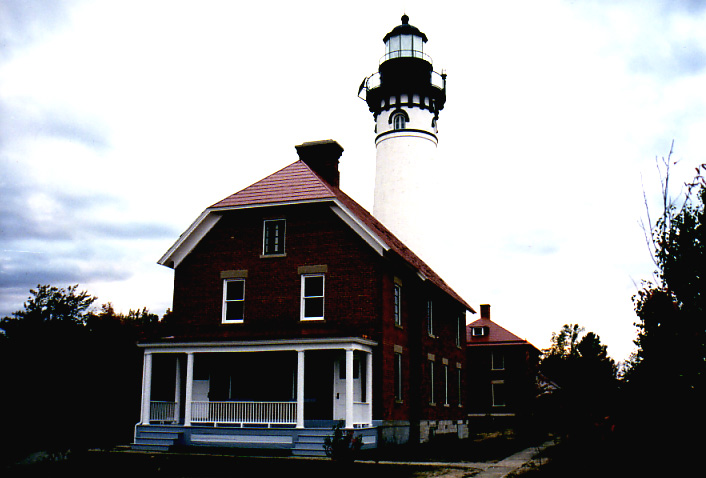 An early evening view in 2001. Same below.