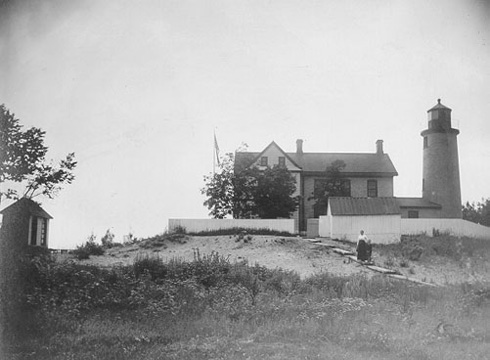 Beaver Head Lighthouse
BEAVER HEAD (BEAVER ISLAND) LIGHT
State: MICHIGAN
Location: MACKINAC STRAITS APPROACH/LAKE MICH
Nearest City: SOUTH OF ST. JAMES
County: CHARLEVOIX
U.S.C.G. District: 9
Year Station Established: 1851
Existing Historic Tower:
Year Light First Lit: 1858
Is the Light Operational? NO
Date Deactivated: 1962
Automated:
Foundation Materials: REINFORCED CONCRETE
Construction Materials: BRICK
Markings/Patterns: YELLOW
Shape: CYLINDRICAL
Relationship to Other Structures: ATTACHED
Tower Height: 46
Original Optic: FOURTH ORDER, FRESNEL
Year Original Lens Installed: 1870
Present Optic: REMOVED
Year Present Lens Installed: 1962
Height of Focal Plane: 103
Fresnel Lens Disposition: FOURTH ORDER LENS IN KEEPERS DWELLING
Previous Tower(s):
1. Construction Date:
Description:
Fate/Disposition:
2. Construction Date:
Description:
Fate/Disposition:
Modern Tower? YES
Year Tower Constructed: 1962
Type: RADIOBEACON TOWER
Tower Height:
Height of Focal Plane:
Current Optic: Year Installed:
Existing Sound Signal Building? YES
Year Constructed: 1915
Construction Materials: RED BRICK
Architectural Style:
Fog Signal Type:
Existing Keepers Quarters? YES
Year Constructed: 1866
Number of Stories: 2
Architectural Style: VICTORIAN
Construction Materials: YELLOW BRICK
Other Structures: FRAME ADDITION ADDED TO KEEPERS TO ACCOMODATE ASST. KEEPERS, OIL HOUSE, GARAGE, STORAGE BUILDING, RADIOBEACON (1962)
Current Use: ALTERNATIVE EDUCATION CLASSES
Owner/Manager: CHARLEVOIX PUBLIC SCHOOL DISTRICT
Web Site:
Open to the Public? YES (Goto Publicly Accessible Lighthouses by Region for access information)
National Register Status: LISTED Reference #78001495
Name of Listing: BEAVER ISLAND LIGHT STATION
On State List/Inventory? YES; Year Listed:
Miscellaneous: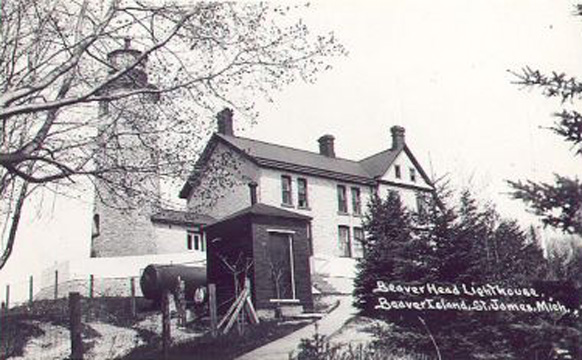 An old photo postcard of the lighthouse.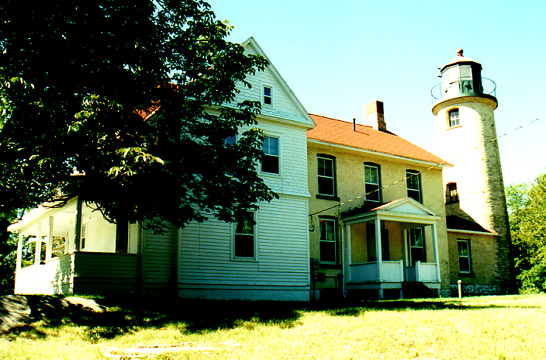 Photographs taken in 2003 on the rest of this page.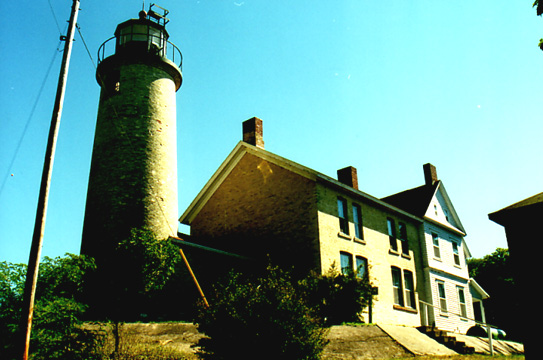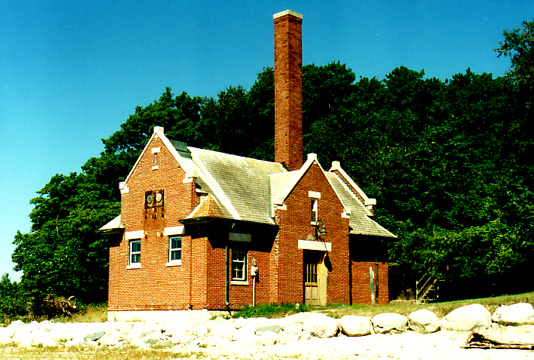 The Beaver Island Lighthouse Project originated in 1975 when Charlevoix Public Schools purchased the lighthouse and surrounding 64 acres for one dollar. The lighthouse was declared surplus property after its replacement by the radio beacon tower across the road from it in 1962. In the following years, the lighthouse suffered deterioration and malicious destruction from vandals who shot holes in the walls, etc. Renovation of the lighthouse began when Charlevoix Public Schools initiated a C.E.T.A. funded summer work-study program for socio-economically disadvantaged youths.
Approximately 25 youths attend each of the two, five week summer sessions. They live in platform tents during the week and return to the mainland for the weekend. The youths, ages 16 to 21 years of age are divided up into various work crews. Restoration, cabin duty, nature trails and kitchen duties. The crews gain valuable experience in each of these areas while they are there. Other activities are held as well throughout their time frame at the lighthouse.