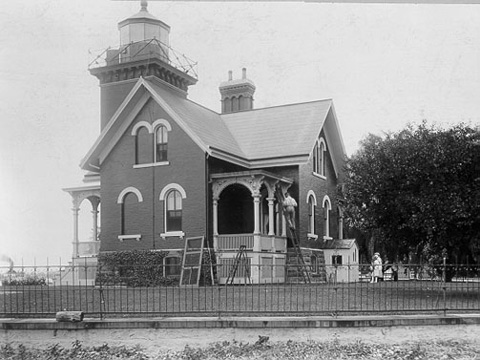 A historical photograph of the lighthouse while it was still in service.
BELLE ISLE LIGHT
State: MICHIGAN
Location: Detroit River on Belle Isle Nearest City: Detroit
County:
U.S.C.G. District: 9th
Year Station Established:
Existing Historic Tower:
Year Light First Lit:
Is the Light Operational? No
Date Deactivated: N/A
Automated:
Foundation Materials:
Construction Materials:
Markings/Patterns:
Shape:
Relationship to Other Structures:

INTEGRAL

Tower Height:
Original Optic:

FOURTH ORDER

Year Original Lens Installed:
Present Optic:
Year Present Lens Installed:
Height of Focal Plane:
Fresnel Lens Disposition:
Has tower been moved?
Previous Tower(s):
1. Construction Date:
Description:
Fate/Disposition: The lighthouse was torn down to make way for the present day US Coast Guard Station which sits on the same site.
Modern Tower?
Existing Sound Signal Building? NO
Existing Keepers Quarters? NO
Other Structures: NO
Current Use: US Coast Guard Station
Owner/Manager: N/A
Open to the Public? NO
Non-NPS Web Site: NO
National Register Status: Name of Listing:
On State List/Inventory? ; Year Listed:
Miscellaneous: