GRAND ISLAND HARBOR RANGE LIGHTHOUSE
State: MICHIGAN
Location: LAKE SUPERIOR
Nearest City: CHRISTMAS
County: ALGER
U.S.C.G. District: 9
Year Station Established: 1868
Existing Historic Tower:
Year Light First Lit: 1914
Is the Light Operational? NO
Date Deactivated: 1969
Automated:
Foundation Materials: CONCRETE PIER
Construction Materials: STEEL
Markings/Patterns: BLACK TOWER/WHITE LANTERN
Shape: CONICAL
Relationship to Other Structures: SEPARATE
Tower Height: 62
Original Optic:
Year Original Lens Installed:
Present Optic:
Year Present Lens Installed:
Height of Focal Plane: 70
Fresnel Lens Disposition:
Previous Tower(s):
1. Construction Date: 1868
Description: WOOD FRAME REAR RANGE LIGHT IN LANTERN ON KEEPERS AND SMALL WOOD FRAME TOWER FOR FRONT RANGE LIGHT
Fate/Disposition: PARTLY DEMOLISHED AND PART MOVED TO PRIVATE LAND FOR USE AS DWELLING
Modern Tower? YES
Existing Sound Signal Building? NO
Existing Keepers Quarters? NO
Other Structures:
Current Use:
Owner/Manager: U.S. FOREST SERVICE, U.S. DEPARTMENT OF AGRICULTURE
Open to the Public? YES (Goto Publicly Accessible Lighthouses for access information)
Web Site:
National Register Status: LISTED Reference #90000906
Name of Listing: GRAND ISLAND HARBOR REAR RANGE LIGHT
On State List/Inventory? NO; Year Listed:
Miscellaneous:
FRONT RANGE LIGHT TORN DOWN IN 1969 TO MAKE ROOM FOR BAY FURNACE DIRECTIONAL LIGHT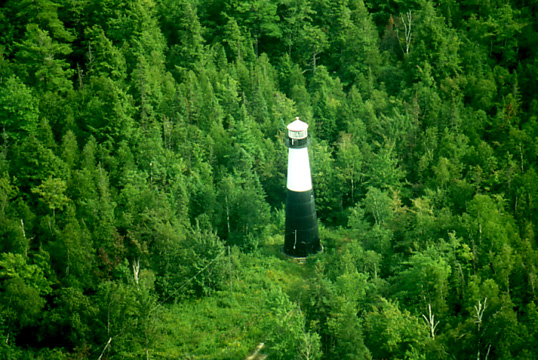 Photo from the air in 2001 of the rear range tower.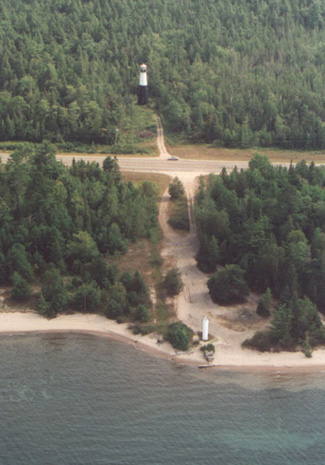 Another photo from the air showing the front and rear range towers.