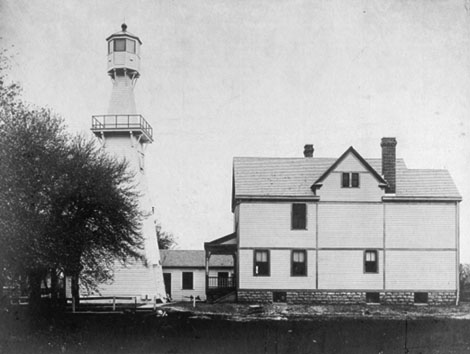 Grosse Isle North Channel Front Range Light
GROSSE ISLE NORTH CHANNEL RANGE FRONT LIGHT
Location: DETROIT RIVER
Nearest City: TRENTON
County: WAYNE
U.S.C.G. District: 9
Year Station Established: 1894
Existing Historic Tower:
Year Light First Lit: 1906
Is the Light Operational? NO
Date Deactivated: 1963
Automated:
Foundation Materials: CONCRETE PIER
Construction Materials: WOOD
Markings/Patterns: WHITE
Shape: OCTAGONAL
Relationship to Other Structures: SEPARATE
Tower Height: 50
Original Optic:
Year Original Lens Installed:
Present Optic: REMOVED
Year Present Lens Installed:
Height of Focal Plane:
Fresnel Lens Disposition:
Has tower been moved? NO
Previous Tower(s):
1. Construction Date: 1894
Description: FOUR-SIDED WOODEN PYRAMID ON OPEN WOOD PILING, SIDES WERE CLOSED IN WITH SIX-SIDED WOODEN LANTERN ON TOP OF PYRAMID
Fate/Disposition: REMOVED FOR CONSTRUCTION OF 1906 TOWER
Modern Tower?
Existing Sound Signal Building?
Existing Keepers Quarters? YES, OFF SITE (PRIVATELY OWNED)
Year Constructed:
Number of Stories: 2.5
Architectural Style: VICTORIAN
Construction Materials: WOOD
Other Structures:
Current Use:
Owner/Manager: GROSSE ILE HISTORICAL SOCIETY
Open to the Public? YES (Goto Publicly Accessible Lighthouses for access information)
National Register Status: PART OF LISTING Reference #80004863
Name of Listing: HISTORIC ENGINEERING & INDUSTRIAL SITES IN MICHIGAN TR
On State List/Inventory? NO; Year Listed:
Miscellaneous:
REAR RANGE LOST BEFORE 1940; GIHS ALSO OWNS DETROIT RIVER LIVINGSTONE
CHANNEL ORIG LIGHT TOWERS NO. 25 AND 26 WHICH CAN BE VIEWED ON MUSEUM GROUNDS