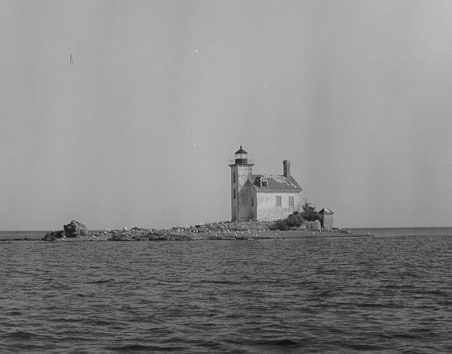 GULL ROCK LIGHTHOUSE
State: MICHIGAN
Location: WEST OF MANITOU ISLAND/LAKE SUPERIOR
Nearest City: COPPER HARBOR
County: KEWEENAW
U.S.C.G. District: 9
Year Station Established: 1867
Existing Historic Tower:
Year Light First Lit: 1867
Is the Light Operational? YES
Date Deactivated: N/A
Automated:
Foundation Materials: MASONRY
Construction Materials: BRICK
Markings/Patterns: YELLOW
Shape: SQUARE
Relationship to Other Structures: ATTACHED
Tower Height: 46
Original Optic: FOURTH ORDER, FRESNEL
Year Original Lens Installed: 1867
Present Optic: 250 MM
Year Present Lens Installed:
Height of Focal Plane: 50
Fresnel Lens Disposition: FOURTH ORDER LENS ON DISPLAY AT GREAT LAKES SHIPWRECK MUSEUM, WHITEFISH POINT, MICHIGAN
Has tower been moved? NO
Previous Tower(s): N/A
Modern Tower? NO
Existing Sound Signal Building? None
Year Constructed:
Construction Materials:
Architectural Style:
Fog Signal Type:
Existing Keepers Quarters? YES
Year Constructed: 1867
Number of Stories: 2
Architectural Style: ATTACHED TO TOWER
Construction Materials: BRICK
Other Structures: Detached privy
Current Use: ACTIVE AID TO NAVIGATION
Owner/Manager: Michigan Lighthouse Conservancy with Gull Rock Lightkeepers.
Open to the Public? NO
Non-NPS Web Site: http://www.gullrocklightkeepers.org
National Register Status: LISTED Reference #84001751
Name of Listing: GULL ROCK LIGHT STATION (U.S. COAST GUARD/GREAT LAKES TR)
On State List/Inventory? NO; Year Listed:
Miscellaneous: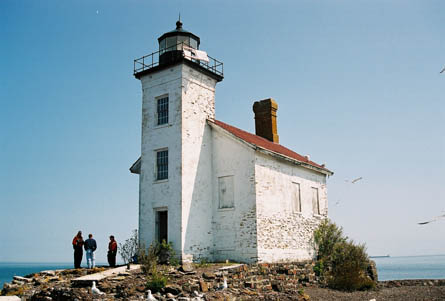 Gull Rock lighthouse in 2004. Note the missing dormer from the black and white photo on the left side of the page.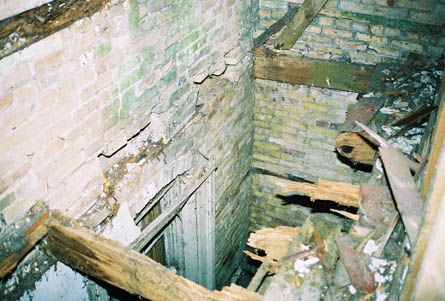 Above and below photos show how the interior has collapsed and is literally a disaster area from all the rotted debris. The restoration will be a major undertaking.