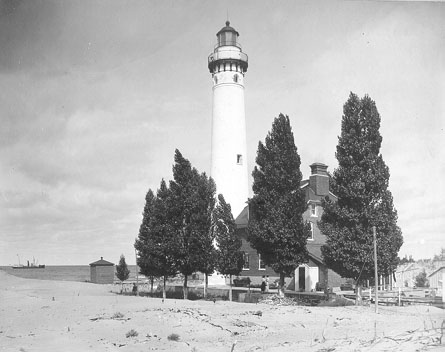 LITTLE POINT SABLE LIGHT
State: MICHIGAN
Location: EAST SHORE OF LAKE MICHIGAN
Nearest City: MEARS
County: OCEANA
U.S.C.G. District: 9
Year Station Established: 1874
Existing Historic Tower:
Year Light First Lit: 1874
Is the Light Operational? YES
Date Deactivated: N/A
Automated: 1955
Foundation Materials: WOOD PILINGS
Construction Materials: BRICK
Markings/Patterns: RED BRICK/ORIG. WHITE
Shape: CONICAL
Relationship to Other Structures: ATTACHED
Tower Height: 107
Original Optic: THIRD ORDER, FRESNEL
Year Original Lens Installed: 1874
Present Optic: THIRD ORDER
Year Present Lens Installed:
Height of Focal Plane: 108
Fresnel Lens Disposition:
Has tower been moved? NO
Previous Tower(s): N/A
Modern Tower? NO
Existing Sound Signal Building? NO
Existing Keepers Quarters? NO, DESTROYED
Year Constructed: 1874
Number of Stories: 3
Architectural Style:
Construction Materials: BRICK
Other Structures: NO LONGER STANDING
Current Use: ACTIVE AID TO NAVIGATION IN STATE PARK
Owner/Manager: U.S COAST GUARD (TOWER)/SILVER LAKE STATE PARK (GROUNDS)
Open to the Public? YES (Goto Publicly Accessible Lighthouses for access information)
Web Site:
National Register Status: LISTED Reference #84001827
Name of Listing: LITTLE SABLE POINT LIGHT STATION (U.S. COAST GUARD/GREAT LAKES TR) On State List/Inventory? NO; Year Listed:
Miscellaneous:
IMPORTANT ROLE IN GROWTH OF SHIPPING ON LAKE MICHIGAN
Little Sable Lighthouse, a white brick tower, 107 feet in height, connected to the keeper's dwelling, and surrounded by a picturesque group of trees, stands on a point about 10 miles south of Pentwater. The lighthouse was built in 1874, and the light now shown from the tower is fixed and flashing white, the flashes being of 40,000 candlepower. Several miles to the northward is Big Sable Lighthouse, on the point of that name, distinguished at night from Little Sable by having a fixed white light, and by day by the color of the tower, banded in black and white. Big Sable Lighthouse is the same height as the tower at Little Sable, but was erected in 1867.