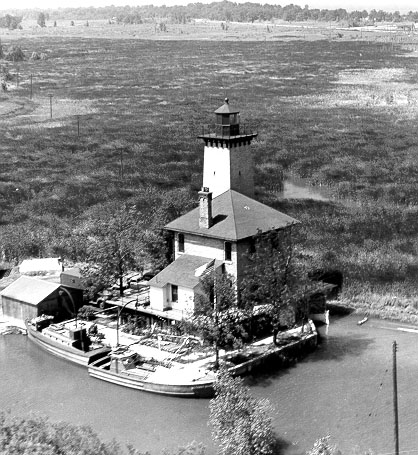 SAGINAW RIVER (REAR RANGE) LIGHT
Location: SAGINAW RIVER ENTRANCE
Nearest City: BAY CITY
County: BAY
U.S.C.G. District: 9
Year Station Established: 1841
Existing Historic Tower:
Year Light First Lit: 1876
Is the Light Operational? NO
Date Deactivated: 1960
Automated:
Foundation Materials:
Construction Materials: BRICK
Markings/Patterns: WHITE W/BLACK TRIM
Shape: SQUARE
Relationship to Other Structures: INTEGRAL
Tower Height: 55
Original Optic:
Year Original Lens Installed:
Present Optic: REMOVED
Year Present Lens Installed:
Height of Focal Plane: 77
Fresnel Lens Disposition:
Previous Tower(s):
1. Construction Date:
Description:
Fate/Disposition:
Modern Tower? UNKNOWN
Existing Sound Signal Building? UNKNOWN
Existing Keepers Quarters? YES
Year Constructed: 1876
Number of Stories: 2
Architectural Style:
Construction Materials: BRICK
Other Structures:
Current Use: UNDER RESTORATION
Owner/Manager: PRIVATE OWNER (DOW CHEMICAL COMPANY) Saginaw River Marine Historical Society taking care of the lighthouse now.
Open to the Public? NO
Web Site: LINK
National Register Status: LISTED Reference #84001373
Name of Listing: SAGINAW RIVER LIGHT STATION (U.S. COAST GUARD/GREAT
LAKES TR) On State List/Inventory? NO; Year Listed:
Miscellaneous: